How it all began
The Narangi Foundation is an initiative of Anja van der Wal and Albert Jan Kruiter. They spent two years in India where they came across many small-scale, private organisations serving disadvantaged people. These local projects are run by committed citizens dedicated to helping their less privileged fellow man and woman. They often perform tasks that should be carried out by the government.
The struggle of the small non-profits
Those small, grassroots non-profits often struggle to find enough funding to sustain their organisations. They rarely qualify for grants from larger NGOs and foundations, and getting funding from their government might be a complex venture.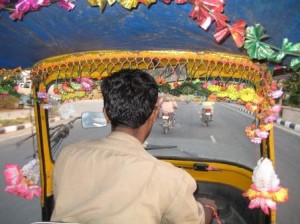 There is great need for direct and structural financial support. Project based (temporary) funding is obviously welcome, but when the money flow stops the work still needs to be continued.
Meeting the Wisdom Academy
When Albert Jan and Anja were living in Jaipur (in the state of Rajasthan) they met Rohit, who was their Hindi teacher. Rohit and his wife run a small NGO called the Wisdom Academy, providing free basic education to slum children. They had a wish to expand their activities and Albert Jan and Anja decided to help them achieve their desired goals.
Founding Narangi
In October 2010, the Narangi Foundation was founded, and we started a partnership with the Wisdom Academy. By joining forces, Narangi and the Wisdom Academy will be able to create more opportunities to carry out their joint mission of access to quality education for slum children.
In the future, we hope to extend our support to more civil society projects, in India and elsewhere.
Narangi means 'Orange' in Hindi
Orange is the national colour of The Netherlands, the country in which the Narangi Foundation is registered. We chose to have our name written in the language of the country where the initiative for the foundation was born, and where Narangi supports projects. Orange represents energy, creativity, warmth and vitality.