The schools
 Slum kids grow up learning the tough lessons in life. The Wisdom Academy also teaches them how to read and write.
The Wisdom Academy is running educational programmes for children in four different slums in west Jaipur. About 100 boys and girls, aged 4 to 13, are attending classes. They get free basic education and are also provided learning materials, stationery and 'mini meals'.
Teaching in the slums
Classes are given in the slums, so the children can come to school on foot. This way, also girls can be educated; parents often don't allow their daughters to attend schools outside the slums.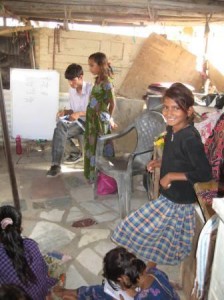 In one of the slums, the Wisdom Academy rents a room in a brick building. In the other slums, teaching takes place in residential huts. The families owning these huts get a fee in return: during school hours they can't enter their homes and all school equipment and learning materials are being stored in their huts.
In each slum, classes are held six days a week, for 2.5 to 3 hours each day. As most children never attended school before, there are children of different ages in one group. At each school an assistant is employed to help the teachers and the students. Before classes start, the assistants go collect the children in the slums.
Learning should be fun!
To encourage slum children (whose parents don't care about education, and who don't receive academic help from their parents) to come to school, learning should be interesting. Children should enjoy going to school.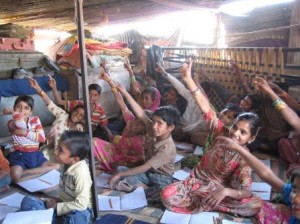 The Wisdom Academy provides a diverse and interactive curriculum. The students are taught Hindi, English, Maths, and Environmental Studies (EVS). Social skills and creative activities are part of the curriculum too. Drawing and painting, singing, dancing, and drama are not only fun and relaxing, they also help to improve the children's self-esteem and self-confidence. Click here to get a visual impression of what the students learn.
Creativity in education
In India, especially at government schools, teaching methods are often based entirely on listening and repetition. Rote learning provides little opportunity to think for yourself or develop new ideas.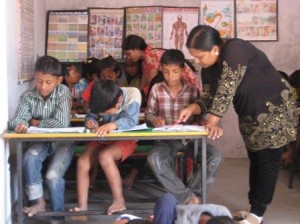 The Wisdom Academy promotes an integrated teaching approach: lessons are centred on themes (like water, Indian festivals, insects), integrating different subjects. This active learning method involves students thinking and doing, rather than passively listening. Besides whole class teaching, the students get individual attention tailor made to their specific needs and learning levels.
Establishing classroom routines
Most children never went to school before, they used to roam around or work. To motivate these kids to sit peacefully and listen during the class is quite an adventure to start with. The first weeks, classes are merely entertainment (drawing, painting, and singing) combined with some serious study. After some time, the children start taking interest in studies and then the actual schooling can start. It turns out that most of them are very keen to learn!
The first weeks of school, students particularly enjoy (ab)using the learning materials. In a short time, they manage to use up dozens of notebooks, pencils, and erasers. Sharpening and erasing are exciting new activities, so it seems …