Sewing courses for women
20.09.2013
Besides providing education to children, and providing medical and social support to the slum communities, the Wisdom Academy now also gives vocational training to adults: they started sewing courses for women in the slums.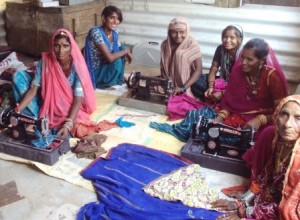 The participants will learn new skills, a new profession, offering opportunities to make a better income. This way, the sewing courses could help to reduce poverty and improve the living conditions of the women and their families.
The Wisdom Academy started two courses in two different slums. The training programme is free, the women don't have to pay a tuition fee.
Wanted: Funding for the last six months
The sewing courses started in July 2013, and will last 18 months. Narangi received a grant from a Dutch foundation that will cover the costs of the training programme for one year. So, we are still looking for funding to cover the remaining six months: 550 euro per course (two courses in total). Maybe a good reason to organise a fundraising activity?
Read more about the sewing courses, and about how helping women earn a better living pays off for the whole family.