Profiles
The Founders of the Wisdom Academy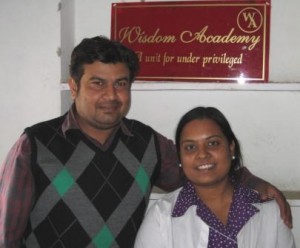 The Wisdom Academy was founded by Rohit en Deepanjali Wilson, both are professional teachers. They are dedicated to catalyzing a change in the lives of underprivileged children. By providing free quality education they aim to create better future opportunities for poor kids. Since 2005 they have been teaching in several slums in Jaipur.
Deepanjali works fulltime at the Wisdom Academy and is a paid staff member. She teaches in several slums, trains the other teachers, is responsible for curriculum development, and frequently joins the nurse on her visits to the slums. Rohit works at private schools and as a tutor. Next to these paid jobs, he dedicates his time and skills to the Wisdom Academy by managing the projects, teaching, and supporting the slum communities.
Watch this video in which Rohit and Deepanjali tell about their activities and their drive to make a difference for the children they work with.
---
Vishnu, 9 years old, student at the Wisdom Academy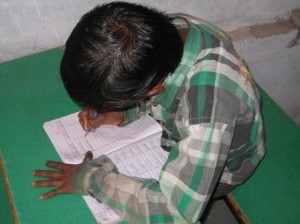 Vishnu lives with his uncle, grandmother and sister. Vishnu's mother died, and his father is living elsewhere in India with his second wife. Last year Vishnu didn't attend school for a few months. He was sent to Delhi by his family to work as a domestic worker ('servant') in a middle class household. Luckily, he returned back to Jaipur and back to school. He would like to study and get an office job in the future. And he hopes to earn enough money to sustain his family.
---
Pooja, 10 years old, student at the Wisdom Academy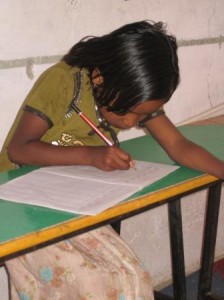 Pooja lives with her mother, her father and two brothers. Her father deals in waste plastic and paper. Pooja's mother works as a household help for a lower middle class family. After school, she helps at home by washing clothes, fetching water, cleaning around the house, and babysitting her younger brothers. Pooja hopes to be a doctor one day and help other people. And she would like to build a nice house for her family.
---
Mukesh, 12 years old, former student at the Wisdom Academy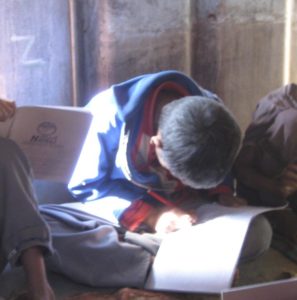 Mukesh has two younger sisters. His father earns money by buying and selling scrap metals, his mother works as a domestic help in a middle class family. Mukesh was eager to finish school. He dreamt of being a surgeon, and of speaking English fluently. Unfortunately, his father made him quit school to work in a factory, 6 days a week.
---
* The names of the children are changed to protect their privacy.