Other ways to help
There are more ways to get involved besides making a donation. Here are some easy and fun ideas to support Narangi!
Invest your time or expertise – Be a flex volunteer
Supporting us doesn't necessarily require an on-going commitment. We are also looking for people who can assist us with one-time projects and activities, for instance in the field of marketing, PR and fundraising. Simply volunteer whenever you are able to, and from wherever you are in the world. Send us a message if you are interested!
Organise your own fundraising event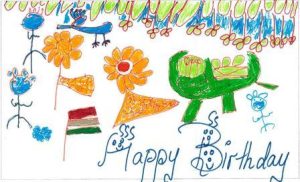 Is it your birthday, anniversary, wedding or any other reason to celebrate? Instead of presents, you could ask your guests to make a donation to Narangi.
Get sponsored for a sporting event, like a walk, run or cycle, and give the money you raise to Narangi.
Sell your unwanted furniture, clothes, books, toys and other goods on eBay or hold a garage sale, and donate the proceeds to Narangi.
Organise a fundraising activity at your school, sports club, work, church, or service club.
Check if your (or your spouse's) employer has a matching gift programme. Many companies match employee gifts to charities which can double or triple the impact of your donation!
Host a small event at your house or in your yard, like a dinner, party, film screening, or concert. Invite your friends and ask them to make a donation to Narangi in exchange for attending your event.
If you are interested in organising an event, Narangi can provide you with fundraising materials. Please contact us, we are happy to help you prepare for your event.
Donate your frequent flyer miles to Narangi
Use your frequent flyer miles to buy a plane ticket for Narangi as a gift. This contribution will help us make regular field visits to our projects.
In-kind donations (in India only)
Are you living in India? Then individually, or as a group, you can gift:
Stationery, notebooks, drawing materials and books
Video equipment
Computers
And much, much more. Please contact us if you would like to donate goods.
Please note: we don't send goods overseas to our projects. For more information, please read How we work. 
Tell your friends about us
Join us on Facebook and repost our updates.
Use your Facebook, Twitter or LinkedIn status update to let people know about Narangi. Here's an example that you could copy and paste:

Children should be learning, not earning! The Narangi Foundation tries to make this work for slum kids in India. I am joining them. What about you? www.narangi.org
Would you like more information? Need our help? Want to share a great idea? We would be happy to hear from you! Please contact us.
Thank you for your support!